Mono talks: Emily
Emily has only been at Mono for a few months, but it's been a big step on her path towards a career in design. With a Bachelor's degree in Business Administration and a Master's in Finance and Maths, working as a designer here at Mono seems like an odd career choice.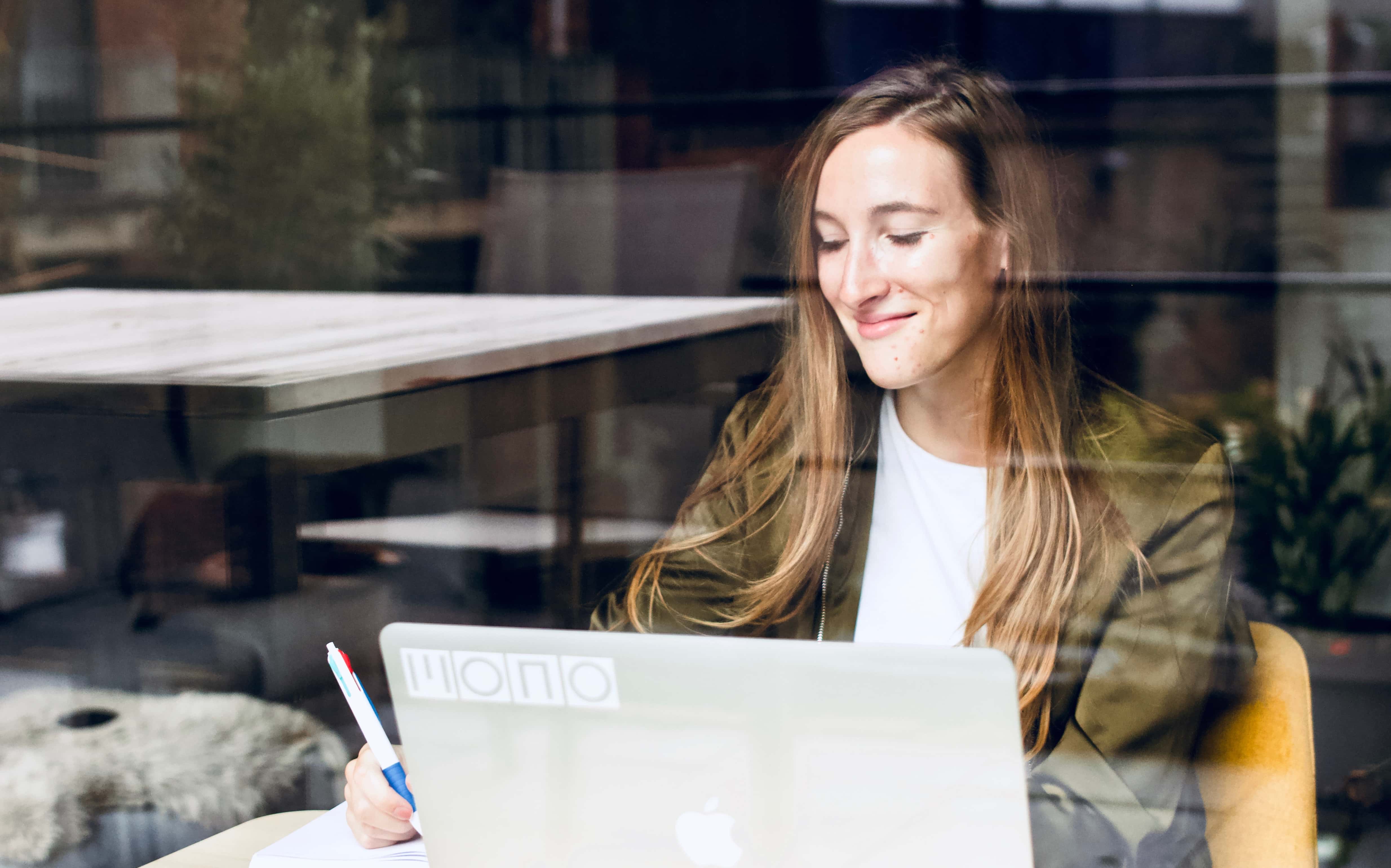 We sat down with her to find out more about her change of heart, her experience working at Mono and her thoughts about the future.
Tell us more about your decision to pursue design as a career.
I've always wanted to be more creative—when I had to decide what I wanted to study, I was actually doubting a lot between business administration and graphic design. It's haunted me ever since. This is why, after I had worked for a little while, I enrolled in a Digital Marketing course. This course also touched on some UI/UX design principles and I noticed that this was something I really wanted to explore more. I was confident that working in design would be a lot more gratifying.
How did you find out about Mono?
I was looking for a possible job/apprenticeship opportunity at a Belgian design company when I came across Mono's front-end development vacancy on CreativeSkills. When I visited the website, I noticed that Mono was offering a UI design apprenticeship as well. This was exactly what I was looking for, so I applied.
I also applied at a few other companies, but Mono stood out to me from the beginning — I was impressed by the diverse and challenging projects Mono is doing and the website itself. I could tell right away that there's a lot of room for the human factor within the company. I could easily picture myself working here.
What are your first impressions?
Very positive — there's plenty of guidance and support and working on projects is step-by-step process, allowing me to build confidence in myself as a designer. There's a lot of trust in the team and room for the human aspect within the company. It was clear from the very beginning that I came to the right place to learn more about working in design.
What were your expectations?
I expected it to be a challenging environment with a lot of opportunities to grow and learn under guidance from Johan, Xavier and the rest of the team. Working here for a number of weeks now, these expectations have definitely been confirmed for me.
What's it like working at Mono?
I've been learning a lot and I can tell they've put quite a bit of effort into making sure that I get the chance to do so. Also, I've been able to try out various aspects within UI/UX design — from user and feature analysis to design and even front-end development. Being able to sample these different aspects has allowed me to narrow down the direction I want to take further. There hasn't been a boring day yet!
We also have good contact and communication with each other through Slack, Hangouts and our weekly team day, which for me emphasises the attention Mono dedicates to its team members. Working remotely was new to me so it took some getting used to, but I'm definitely liking it so far. It offers a certain kind of freedom and I'm able to concentrate better than I could in an open office environment. I feel more productive and more in control of my time.
What are some of the most interesting things you've learned so far?
Because of the easy and frequent communication, I've received a lot of input and knowledge from everyone in the team so I feel like I have a lot of sources for all the things I want to learn. In terms of design for example, I've learned a lot from Marina. She sat down with me one day and explained basically everything she knows about visual design principles and her design workflow. Being able to apply these basics is something that's helped me in a number of projects so far. At the moment, I am learning the basics of front-end development and I'm very excited about it! I think being good at both design and front-end is an important aspect of being a good UI designer.
How does working at Mono compare with previous work environments?
They couldn't be more different — my previous work experiences were at large multinational corporations in different sectors. The Mono team is quite small and allows for a more personal approach and more diversity in tasks and projects, which is something I was missing in my previous work experiences.
Also, I never really had a lot of contact with clients before so it's nice that I'm more involved in that now, by being part of a client workshop for example. Establishing and maintaining positive client relationships is something I'd like to be good at in the future.
What do you like most about working at Mono?
I very much enjoy the company culture and general atmosphere. I feel good being part of the team, which is important to me. The tasks I'm given are interesting and offer a lot of variation. Mono is in full growth at the moment, which makes figuring out how to best work as a team a bit challenging at times but the solid communication we have set up works well as a safety net in these circumstances.
The focus on personal growth and development is something I really appreciate. It's clear that they want to invest in me so I can continuously learn new things, improve my skills, and explore the things I want to focus on more. Really, I haven't encountered anything yet that I didn't like about working at Mono — partly because I have my previous work experiences to compare to. The work I do now gives me satisfaction and I'm very excited about seeing how everything progresses.
Where do you see yourself a year from now? Two? Five?
My long-term goal is to continue learning and growing in both UI/UX design and front-end development. These are the things I want to get really good at. I'd love to continue my apprenticeship and over time, evolve to a full-time position here at Mono, where I'll be able to pursue this long-term goal.
Interested in a UI design apprenticeship at Mono? Sign up to the newsletter to keep in touch. We might be offering more apprenticeships in the future.
Subscribe to our newsletter
Receive blog highlights and fresh insights into UX/UI and front-end development.